Rachel

*

, an orphan in Nigeria, ate three meals and went to school today.
She is one of hundreds of orphans and vulnerable children that we are helping to provide for.
Through our partnership with city ministries,

each year we are helping to provide...
- over 400,000 meals for those in need
- over 50 free wheelchairs to people with disabilities
- thousands of free medical treatments
- bulk grains, medicine, and sports equipment to over 400 deaf children
- take care of over 350 orphans and vulnerable children
- more than 200 outreaches in the northeast of Nigeria to many who have been devastated by terrorists
GSDM partners with City Ministries to preach the gospel and heal the sick* in Nigeria.
*"Heal the sick": helps bring physical, emotional, intellectual & spiritual healing to people.
Join us in helping those who face religious persecution
Leah Sharibu is a young girl in captivity of Boko Haram, because of her faith in Christ. We partner with The LEAH Foundation to fight for her freedom and help others who are persecuted in Nigeria.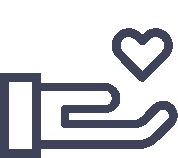 "Whoever is generous to the poor lends to the Lord, and he will repay him for his deed."